Denim Dog Bed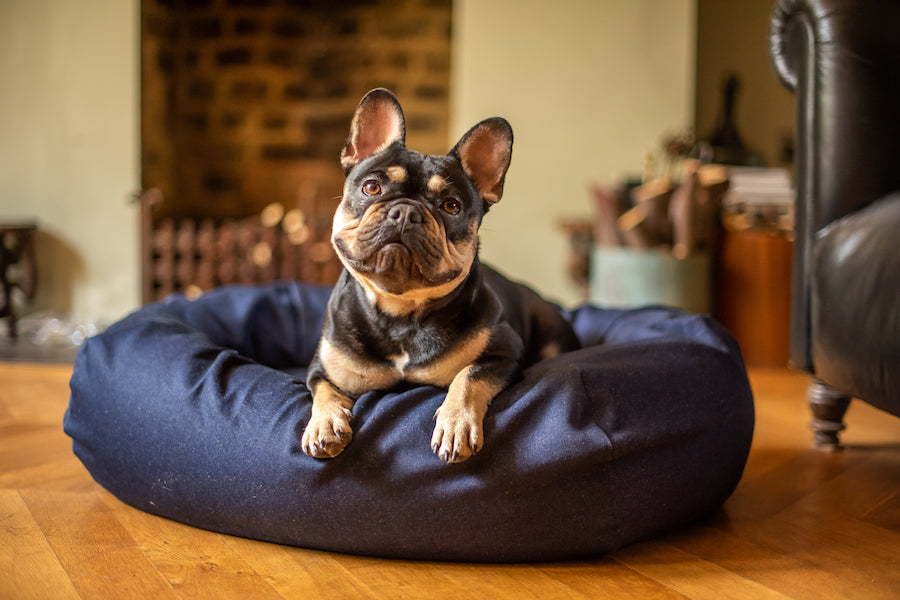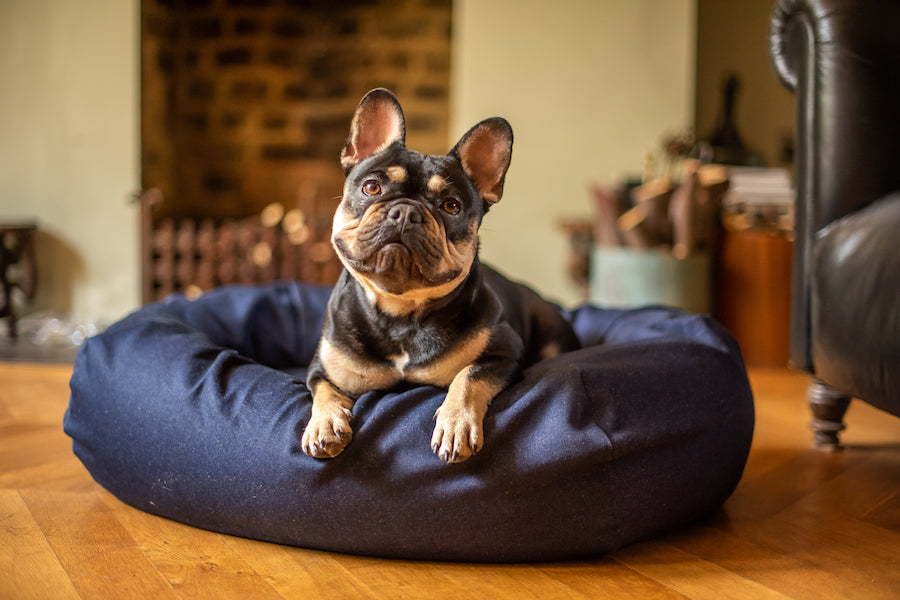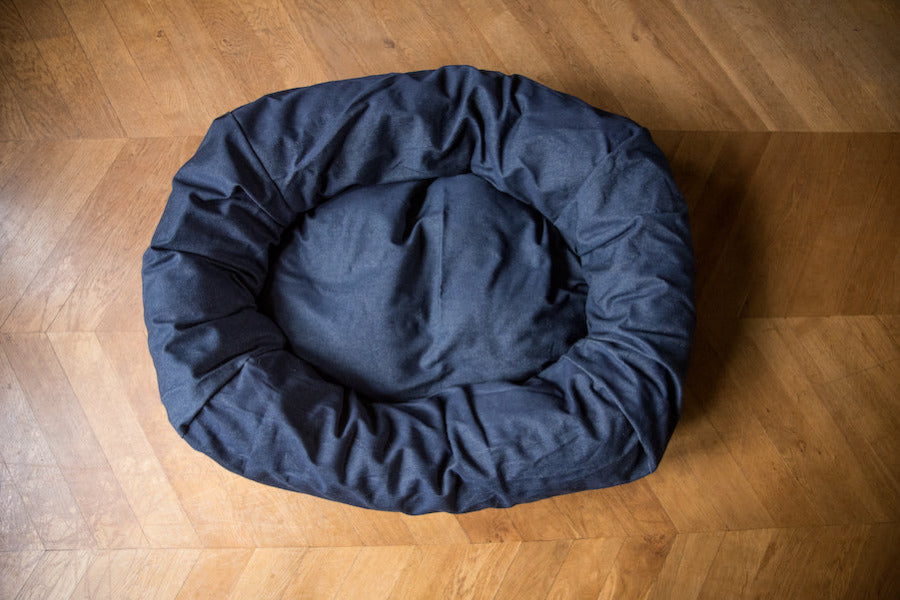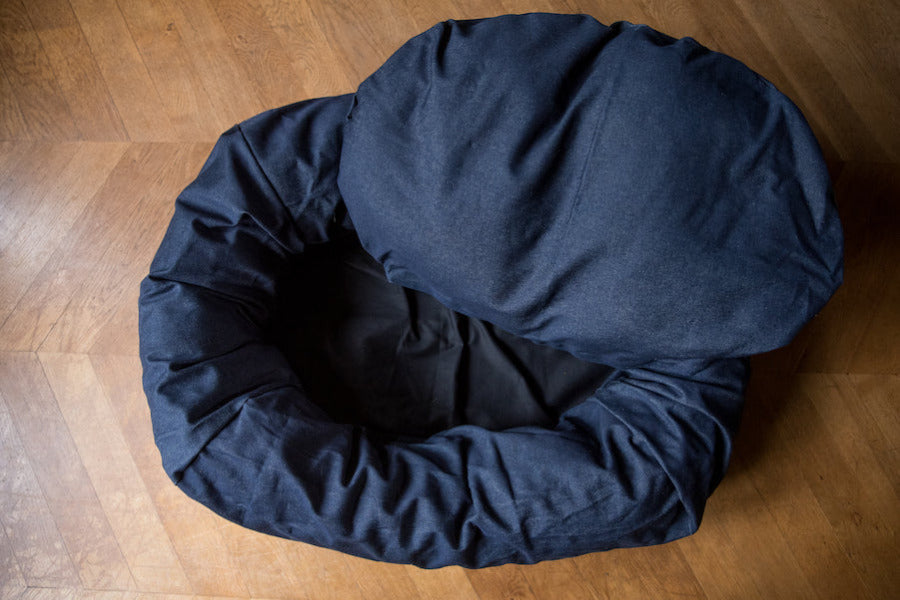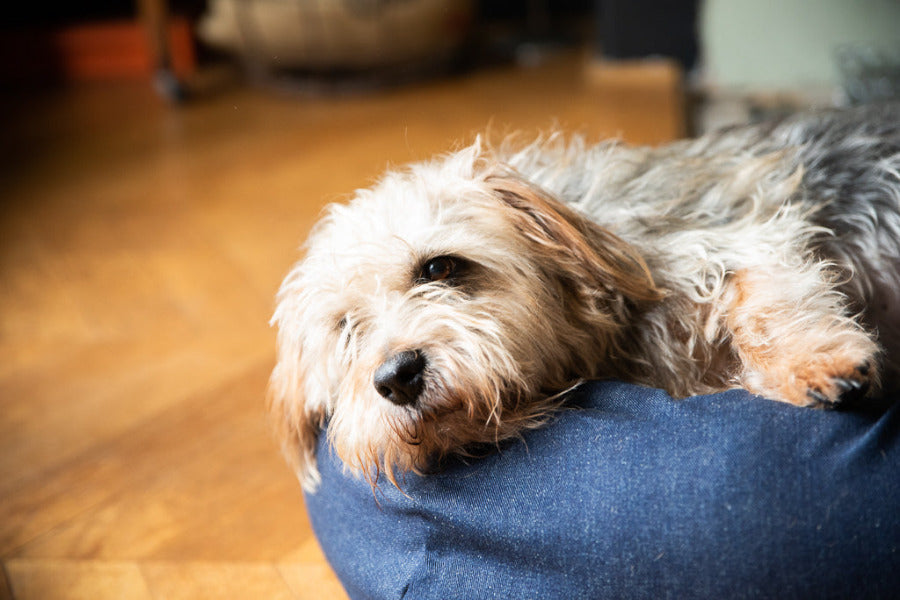 Denim Dog Bed
Snooze the day away on a comfy denim dog bed.
Hindquarters dog bed design and construction ensures maximum comfort that lasts.
An oval shape with comfy cushion and bolster allows your dog to comfortably adopt any sleep position, to curl up in a ball or stretch right out. A chunky bolster creates a cosy space and gives something firm and supportive to lean up against.
The inner dog bed is generously stuffed, tough and durable. Removable dog bed covers are made from a thick durable denim that fades gently with use. Just machine wash when muddy.
Lounge on it, sleep on it, dream on it.
Handmade in the UK with a free repair service on any chews or tears. UK orders: VAT and P&P included.
Product Details
•comfy semi-structured dog bed comprising two parts: central cushion and bolster, both with removable washable covers
•oval shape echoes the shape of your dog lying flat and allows them to curl up cosily or stretch right out, with a supportive bolster to rest up against
•central cushion and surrounding bolster are generously stuffed with polyester fibres that don't hold moisture or bacteria helping to keep things healthy, fresh and odour-free
•inner dog bed cushions are encased in a technical sportswear fabric which is hardwearing and water resistant, and recyclable

•the inner dog bed is water repellent and impervious to damp dog, discouraging micro organisms and keeping things smell free
•removable covers are made from a thick, hard-wearing but soft denim that fades nicely with use
•machine wash dog bed covers at 40°
•XS size is 70x50cm, Small size is 80x70cm, Medium size is 100x75cm, Large dog bed size is 110x80 and XL is 120x90cm

•Hindquarters dog beds are hand stuffed and sewn in the UK with a free repair service on any chews, rips or tears
•extra dog bed covers are available
•read more about How Hindquarters dog beds are made
Shipping & Customs
•UK orders: VAT and P&P are included, 3-5 days delivery (XL dog bed 5-7 days)
•International orders: Shipping is added at checkout, 7-10 days delivery.
NB Hindquarters dog beds, particularly larger sizes, are on the chunky side, so can be expensive to ship overseas so our Stuff It Yourself dog beds can be a good alternative option.
Sizing Guide
•XS dog bed size is 70x50cm and best for pups or very small dogs
•SMALL dog bed size is 80x70cm including 15cm bolster and good for Dachshunds, smaller Cockapoos, JRT's, Wheaten Terriers, French Bulldogs and Border Terriers
•MEDIUM is 100x75cm including 15cm bolster and good for most Spaniels, Cockapoos, small Staffies and similar sizes
•LARGE dog bed size is 110x80cm including 20cm bolster and suitable for a regular Lab or Boxer
•EXTRA LARGE dog bed is 120x90cm including 20cm bolster and good for a German Shepherd, Saluki or Greyhound
Hindquarters dog beds are semi-structured and supportive, your dog will lie up against the bolster, using it as support, and not be restricted by it.
Recommended