Stuff It Yourself Grey Dog Bed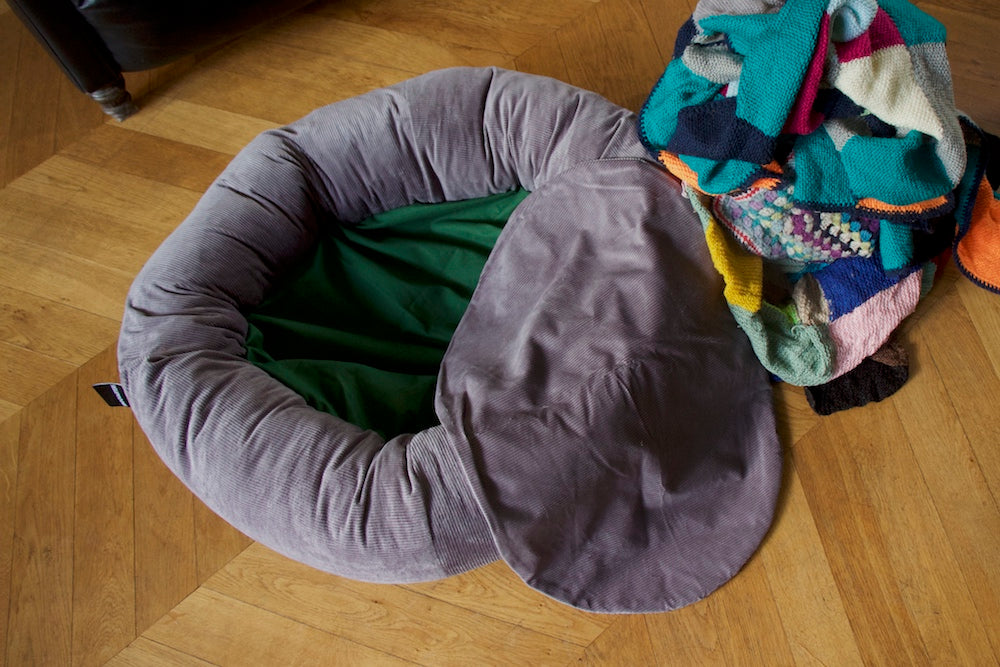 Stuff It Yourself Grey Dog Bed
Stuff It Yourself dog beds have been designed so that you can stuff them with all your old clothes and bedding.
This way your dog gets to be with you all the time. Your dog will be laying on a bed that smells of their favourite person in the whole world.
We provide the dog bed skins made from a thick soft cotton corduroy for the ultimate sleep surface.
You stuff the dog bed with your old bedding and jumpers.
They snooze the day away in ultimate bliss.
A sustainable dog bed that helps you recycle your jumpers, repurpose your wardrobe, and reduce your waste.
Stuff It Yourself dog beds comprise a chunky bolster and central cushion. An oval shape with supportive structure enables all a dog's various sleep positions, ensuring maximum comfort that lasts.
UK orders : VAT and P&P included.
Product Details
•a dog bed that you stuff yourself : we provide the dog bed skins and you stuff it with your old clothes and bedding

•the dog bed skins come in two parts : a cushion and bolster, the central cushion is removable for easy turning and vacuuming
•an oval shaped dog bed with a raised bolster allows your dog to adopt any sleep position, curl up cosily or stretch out fully supported
•the dog bed skins are made from a soft thick cotton corduroy

•corduroy is tough and durable but gives your dog a soft sleep surface
•chunky ridges on the cord give a soft velvety feel, they help make the bed easy to brush or vacuum, wash and dry, and the ridges regulate heat, keeping things cool in the summer and warm in the winter 

•machine wash dog bed skins at 40
•available in:
•XS small size(70x50cm) which is good for JRT's and Border Terriers
•Small size (80x70cm) good for Dachshunds and Frenchies
•Medium size (100x75cm) good for Cockerpoos and Corgis
•Large dog bed size (110x80cm) good for Boxers and Labs
•XL (120x90cm) dog beds for big dogs and those who like to share

•roughly speaking, the Extra Small dog bed requires 3kg of stuffing, the Small dog bed requires 4kg of stuffing, the Medium requires 6kg, the Large dog bed requires 9kg, and the XL about 12kg
•large soft items like your old clothes and jumpers, blankets and pillows, will fill a bed most easily
•a sustainable dog bed that helps you recycle old clothes, repurpose your wardrobe and reduce waste
•Hindquarters dog beds are made in the UK with a free repair service on any rips or tears
•read more here about how to stuff a Hindquarters Stuff It Yourself dog bed
Shipping & Customs
•UK orders: VAT and P&P are included, 3/5 days delivery
•International orders: Shipping is added at checkout, 5/7 days delivery
Sizing Guide
•EXTRA SMALL dog bed size : 70x50cm (central cushion 40x30cm) : good for JRT's and Border Terriers
•SMALL dog bed size is 80x70cm (central cushion 50x40cm) and good for Dachshunds, Wheaten Terriers, Frenchies
•MEDIUM is 100x75cm (central cushion 60x40cm) and good for most Spaniels, Cockapoos, small Staffies and similar sizes
•LARGE dog bed size is 110x80cm (central cushion 70x45cm) and suitable for a regular Lab or Boxer
•EXTRA LARGE dog bed is 120x90cm (central cushion 80x50cm) and good for a German Shepherd, Saluki or Greyhound
Hindquarters Stuff It Yourself dog beds are oval in shape with a central cushion and chunky bolster. It is best to firmly stuff the dog bed so your dog can rest along a supportive structure. Your dog will lie up against the bolster and not be restricted by it.
Recommended